GOAL
Educate young minds to aspire, achieve and advance in life.
VISION
To facilitate holistic growth of individuals through intellectual, spiritual, physical, and humanistic training of the body, mind and soul that makes them creative, critical, collaborative, contributive and compassionate citizens of the world.
MISSION
To provide an international learning environment for its students respecting their individuality of interests, abilities and learning styles, blended with an endeavour to instil values and prepare them for life in the 21st century.
VALUES
Faith in God and humanity
Global citizenship
Tolerance and co-existence
Love for country
Respect for self and society
Service to all
Facilities
Co-Curricular

Activities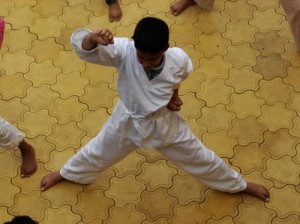 Classroom
Safe environment meant to motivate children with appealing displays and ordered arrangement.
Library
This abode of knowledge is well stocked to provide academic skill support and facilitates complete and in-depth learning. The school encourages the students to utilize the school
library and the objective is to open up avenues for research based learning by exposing children to a repertoire of learning styles and strategies.
Lunch room
Students go to the lunch room to get food for their bodies' need for proper nourishment. But by no means, food is the only thing that they get there – they are also served with social interaction. This place is an integral part of children's social lives and is a place where friends are made and current news is broadcast.
Play Ground
AtSilvermount, we consider sports as important as studies. A healthy mind in a healthy body aids concentration& discipline. Games set challenge and motivate children. They teach children the importance of teamwork, individual contribution and sportsmanship.

Science lab
Science involves seeing, handling, understanding and manipulating of real objects and materials. Classroom teaching combined with our science laboratory experiments aid in developing scientific learning amongst students and in cultivating deeper and profound interest in the field.
Transport
The school is maintaining a fleet of fleet of comfortable, well-maintained buses with trained staff to provide safe and efficient service for children. To provide utmost safety to your kids and information about the movement of buses to you, GPRS is fitted in our buses. SMS is generated on the mobile phones of parents about the boarding the bus and reaching the destination.